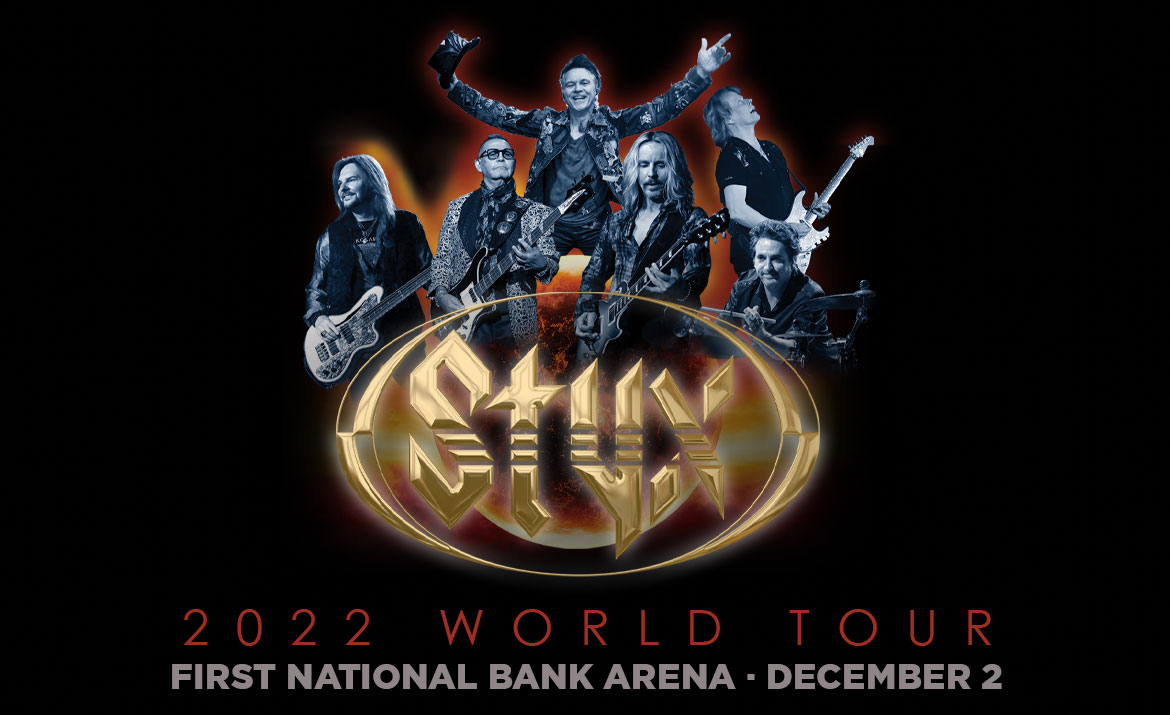 September 13, 2022 – Iconic rock group STYX has announced a tour date in Jonesboro, Arkansas, scheduled for Friday, December 2nd. With over four decades of barn-burning chart hits, joyous singalongs, and hard-driving deep cuts, the show is promising to be one to remember. From the progressively-sweeping splendor that is "The Grand Illusion," to the majestic spiritual love for a special "Lady"; and the regal reach-for-the-stars bravado of "Come Sail Away'' to the rugged "Renegade"--the band draws on unlimited ways to immerse one's mind.
A new era of hope, survival, and prosperity comes calling with the release of CRASH OF THE CROWN, STYX's latest studio album, which was written pre-pandemic and recorded during the trying times of the pandemic. The legendary and multi-Platinum rockers--James "JY" Young (lead vocals, guitars), Tommy Shaw (lead vocals, guitars), Chuck Panozzo (bass, vocals), Todd Sucherman (drums, percussion), Lawrence Gowan (lead vocals, keyboards) and Ricky Phillips (bass, guitar, vocals)-- released their 17th album on June 18, 2021 on the band's label, Alpha Dog 2T/Ume.
STYX's holy mission for cutting CRASH OF THE CROWN was crystal-clear to its co-creator from the get-go. "Absolutely no obstacles were going to get in the way of how we approached creating this album," singer/guitarist Tommy Shaw concludes about the herculean recording efforts of his fellow COTC makers. "And everything came out exactly the way we wanted to hear it."
CRASH OF THE CROWN is the follow-up to STYX's 16th studio album, THE MISSION (their first in 14 years at the time, which critics called "a masterpiece") which was released June 16, 2017 on the band's label, Alpha Dog 2T/UMe. It originally debuted on various Billboard charts, including: #6 Top Rock Albums, #11 Physical Albums, #11 Vinyl Albums, #13 Current Albums, #14 Billboard Top Albums, #16 Retail, #17 Mass Merch/Non-Traditional, #29 Digital Albums, and #45 Billboard 200 (includes catalog and streaming).

Pre-sales begin Wednesday, September 14th at 10:00AM CST and end on Thursday, September 15th.